The much hyped communications revolution that was promised by the rise of the Internet has so far failed to materialise. While most users are still restricted to low-bandwidth dial-up Internet connections, inexpensive global communication using
Voice Over IP
technology remains an unattainable dream. Email and Instant Messaging have also failed to achieve mainstream acceptance, due to the inherent difficulty of conveying the subtle nuances of vocal intonation or body language in a purely text-based medium.
The world has been crying out for a means of Internet communication which is both immediate and capable of imparting emotions, while transcending the fundamental limitations imposed by the scarcity of bandwidth. Fortunately, we can rely on Microsoft to solve our pressing technological problems and their latest offering, Microsoft Comic Chat, is what we've all been waiting for.
Put simply, Microsoft Comic Chat is like instant messaging on steroids. Building upon the foundations of the popular MSN Messenger, Comic Chat manages to communicate the user's emotions and body language through a purely text-based protocol. Microsoft have achieved this impressive feat by using powerful Artificial Intelligence (AI) software which actually understands the content of a user's message. The AI software then extracts the hidden nuances from the message and translates these into the facial expressions of an avatar. As the screenshot shows, Comic Chat manages to convey emotions in messages with unerring accuracy yet without requiring the huge amounts of bandwidth that are associated with traditional video conferencing. Although avatars are currently limited to cute but crudely-drawn comic characters, it is possible that future versions of the software may allow you to use digital photographs of your own face.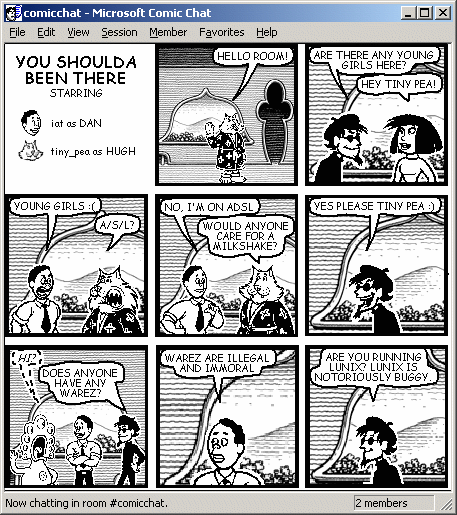 It is both simple and inexpensive to become a part of the Microsoft Comic Chat revolution. The first step is to download the freely available software from Microsoft (Note: Comic Chat is currently only available for computers running Microsoft's popular Windows operating system). When the software has installed, you need to logon to one of the many Comic Chat servers. Popular Microsoft Comic Chat servers include:
DALnet - an acronym for "DSL, ADSL and LAN Network", this server is specially optimised for those with high-bandwidth Internet connections.
EFnet - standing for "Electronic Faces Network", this is the oldest and most popular server. This server is a great place for newcomers to Comic Chat to get advice on how to make the most of their software.
Undernet - while DALnet is optimised for users with fast Internet connections, Undernet caters for those with slower dial-up links.
Once connected to a
Microsoft Comic Chat
server, you are free to subscribe to a forum that matches your own hobbies and interests. As with all new technologies, the early adopters are usually criminals or oversexed misfits. Sadly, this is no exception and the majority of forums currently cater for those who trade in stolen goods (including music, movies and software) or wish to indulge in the sort of filth that was previously confined to premium rate telephone sex lines. However, it is hoped that the increasing popularity of these servers may encourage forums to reflect a broader cross-section of interests, including handicrafts and philately.
Microsoft Comic Chat has the potential to change the ways in which we conduct our friendships and do business, and Microsoft ought to be commended for their tireless innovation. So why not join the telecommunications revolution and start Comic Chatting today?