I couldn't abide actually getting involved with any of them, though, for by now I was well aware that they are too much mental pain, that they insist on damaging honest men with emotional cruise missiles that rip through the keyhole of the heart. A few one night stands followed, but always they tried to see me again, or slung me out of their pad at 4AM, or (shockingly) threatened to accuse me of rape. How to get a woman not interested in emotion, love or money? A woman not given to such tripe is very rare, and I almost gave up.
Discussing this one day with my friend James, he suggested I visit Realdoll.com. I think he was joking, but I am grateful to him, for he initiated a series of incredible adventures with Realdolls™.
Now, in case you aren't familiar with Realdolls™, let me make clear what they are. They are sophisticated silicone based dolls with articulated skeletons, lifelike skins, gelatine-based breasts and are in every respect very similar to the real thing. They move like women, feel like women, taste like women and smell like women. In fact, they do all of these things better than actual women could ever hope to - your Realdoll™ never has a period, or farts, or shits, or smells of BO in the morning. They are in a constant state of been-tarting-myself-up-for-three-hours getting ready for a Saturday night on the town readiness.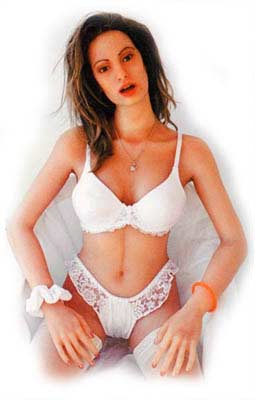 My dearest Stacy, radiating beauty even in a photograph
When I investigated the Realdoll™ site I have to say I was sceptical at first, but I decided to give it a shot and send off for Stacy, a Realdoll™ with looks astonishingly similar to those of Julia Roberts. And I have to say, when she arrived I was more than satisfied - Stacy was everything a man could dream of, and more. Flexible, lithe, more than lifelike, and a sensuous lover the likes of which I had never known.
I was soon obsessed with my new silicone friend. We had such wonderful times, and I always bought her treats, such as new clothes (some lovely lingerie among them), lipsticks, make-up, jewellery - nothing was too good for my darling, and she was very grateful to me when I bought her presents - we had a real honeymoon.
When she was six months old, though, I began to hunger for more. It wasn't long before I was looking through the website again, looking for a friend for my darling Stacy. After talking to her about it a while, we settled on Nika , a sultry Caribbean beauty. I think Stacy may have been jealous at first, for when Nika arrived I lavished a lot of attention on her, and poor Stacy must have been upset. Nika was much more challenging company, for she had a college degree in physiotherapy and had studied the liberal arts, she didn't just look intelligent, she could hold her own in any conversation. However, Stacy has always been the more engaging and nice of the two, and it wasn't long before we all bonded together and became a very happy ménage á trios indeed.
As you have probably guessed, this happy state did not last forever. I wanted more and more, but I couldn't afford the $6000 required for a third Realdoll™. It was around this time that Abyss Creations, makers of the Realdoll™, announced that they had decided to make the Male Realdoll™ - and a plan formed in my mind.
The Male Realdoll™ is one of the most realistic dolls created by Abyss creations to this day. It has no seams, and looks and behaves just like a real man. My plan was simple, too. I knew from my previous purchases that the Realdolls™ are shipped seated on padded chairs in crates (5' by 2' by 2') that are sealed with a combination lock. I decided to visit the factory at Abyss Creations and scout out the land.

Nika, who could break anyone's heart with looks alone, is also very intelligent
It wasn't long before I found the factory floor, and I decided to take an incredible risk - that night, I broke in. I quickly located the male Realdolls™ section and the packed crates, sitting on pallets ready to go. I spent almost 4 hours cracking the combination lock on one of the crates (9999 possible combinations to go through manually), and my joy was unrestrained when I succeeded. Working quickly, I took out the Male Realdoll™ within and threw it in a rubbish bin in the warehouse. I then put myself in the crate, sealed the door and awaited a wonderful future!
For days I suffered as the crate made it's noisy delivery to my unknown destination. I had some food and drink though, just enough to keep me going, and a small pocket light and copy of The Village Voice. I really couldn't wait for my new lifestyle, it was so exciting.
Soon the rumblings of my container stopped and I felt my crate being manhandled into somewhere. After some muffled voices, I waited in the dark for some unknown time, until eventually a blinding light shot into my crate and I heard delighted female cooing. My new mistress!
I have been blissfully happy since then, I am treated as a good doll by my Mistress and I even convinced her to purchase Stacy and Nika, so I am reunited with my loves, but now we are equal. I have to say I am very, very happy, and now no longer have to deal with the falsities of real people, I am treated as a real person and an investment.
And the future is bright too - Abyss Creations are constantly researching the field, and I look forward to the new animatronic Realdolls™ that are in development. They will be able to move and make love of their own accord, and so will be a much more immersive experience. They will utilise powerful processors, and I can only wonder how long it is before the 'Linux' operating system is ported to a Realdoll™ and then lovers of this OS can actually make physical love to their creation!
Also, I plan to have children and can only hope that Abyss Creations will make the Child Realdoll™ so that I can achieve my dream. Other advantages would be the disappearance of paedophilia and such disgusting traits, in favour of just buying a Child Realdoll™, but I think the mainstream would be the chance to have a nice family that is more realistic and loving than the real thing could ever be.
I encourage all my readers to investigate the Realdolls™ site, it is the best move I have ever made, as it has revolutionised my life. Why bother with the sore, dirty reality, when perfection can be bought?