Note: GT3 screenshots are courtesy of Justin Gould. Used with permission.
First of all, if you're a fan of the layout and the general gameplay of the previous games, you won't be disappointed. In terms of structure, the game is nearly identical to the previous games in the series; as before, there is an Arcade mode that allows you to pick and choose between different cars and tracks and race against the computer or a friend. However, chances are you'll spend most of your time in the Simulator mode, wherein you're given an initial outlay of $18,000 and must embark on a racing career. You can visit dealerships, buy cars, soup the cars up, go to driving school to get licensed to race in five different classes, and run different tests on your vehicles (such as seeing how fast it will run the standing quarter mile.) You can even wash your car and give it an oil change (which is highly recommended, by the way.)
All of this will be familiar to fans of the series. The game is played by starting off with a fairly modest car, winning lots of races, and building up your bankroll so that you can buy more powerful cars. You win races, which get you trophies, cash, and in many cases, bonus cars. You move up the ranks in the racing world, and progress from a small-time Sunday racer to a full-fledged driver with a 1,400 horsepower race car and a certified pit crew. And as before, there is a dizzying array of modifications that you can perform to your vehicles; if you want to supercharge your engine, you can -- for a price. The available modifications range from the obvious (such as putting on high-performance tires) to the esoteric (such as adding a carbon driveshaft or a molybdenum flywheel.) The hallmark of the Gran Turismo series is meticulous realism and an uncompromising physics model, and that has not changed in Gran Turismo 3.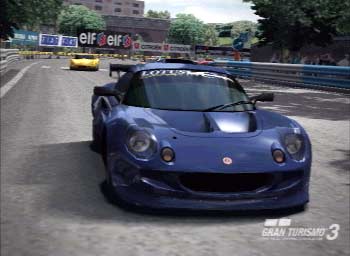 An example of Gran Turismo 3's photo-realistic graphics, rendered in real-time.
The most obvious and dramatic change in
Gran Turismo 3
is the graphics. The capabilities of the Playstation 2 have allowed Sony to take their existing addictive gameplay and realistic handling and overlay it with visuals that in many cases are indistinguishable from actual television racing coverage. As with the previous games,
Gran Turismo 3
features a replay mode that allows you to sit back and watch a race once you have finished it. As before, the camera angles and points of view are user-customizable. The game features hundreds of cars, each of which are composed of an obscene number of polygons, and the Playstation 2's polygon-pushing capabilities are certainly put to the test. The result is a game that is a treat to watch; the scenery includes everything from lens flare effects from the sun to racing banners waving in the wind to heat ripples rising off of the racetrack. However, be warned: a lot of this scenery is difficult to digest at 200 miles per hour.
The sound in Gran Turismo 3 is also impressive. The game has been designed to take full advantage of Dolby surround technologies; if you play the game with a good set of surround speakers and a Dolby Digital reciever, you're in for a treat. If you're in the middle of a race and you have a Mustang SVT Cobra hot on your tail, you can hear the throaty growl of the engine behind you. If you are unfortunate enough to be passed, you will actually hear the sound of your competitor's engine move from behind you to beside you to in front of you .. an auditory reminder that perhaps you need to spend a few dollars upgrading your vehicle.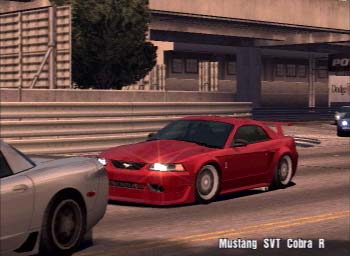 An SVT Mustang Cobra prepares to overtake a Corvette C5.
As with the previous games, Gran Turismo 3 features a soundtrack containing songs by many top rock artists. The game's opening sequence features a remix of the popular "Are You Gonna Go My Way" by Lenny Kravitz; other tracks include "Turbo Lover" by Judas Priest and "Kickstart My Heart" by Motley Crue. The game even features a brand new track by Snoop Dogg called "Dogg's Turismo III" wherein "Snoop" raps about Gran Turismo 3 and all of the features that it offers. This is unfortunate, because rap "music" is essentially a sanctioned form of African-American hatred directed at Caucasians; one would have hoped that such a blatant political statement could have been left out of this game.
Unfortunately, it gets worse.
The game's soundtrack also includes a Goldfinger cover of the song "99 Luftballoons", which was a popular anti-nuclear song in the 1980s. Pardon me if I'm out of line here, but am I the only one that is getting sick and tired of anti-nuclear propaganda coming out of Japanese video games? I played Metal Gear Solid and am considering purchasing its Playstation 2 sequel, but the amount of sheer liberal anti-nuclear preaching in the original game was enough to make me physically ill. The scary thing is that many of the people who play these games are young and impressionable teenagers who will actually believe the rubbish that games like Metal Gear Solid and Gran Turismo 3 trowl out. This crap was at least related to the events of Metal Gear Solid, which was, after all, a game about a walking nuclear tank. But what the hell do nuclear weapons have to do with auto racing? Namco didn't embed liberal messages like "save the whales" into Ms. Pac Man, for Christ's sake.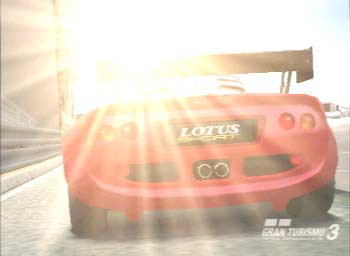 A Lotus Elise accelerates into the sunset.
Now, I am aware of the standard objection from the liberal "politically correct" crowd on this point: "Japan is the only nation to have been targeted and attacked by nuclear weapons, so they have a unique perspective on this issue." Bah. "Unique perspective", my ass. Harry Truman may have been a Democrat, but he somehow made the right decision. If we hadn't nuked Japan, then countless American lives would have been lost in the eventual invasion. Hiroshima and Nagasaki were legitimate military targets, and their destruction brought about the end of World War II.
Hey, Japan? You got nuked. Deal with it.
If the United States had not done what it did, then chances are that Japan would still be ruled by Emperor Hirohito's iron fist to this day. It is only because of the United States that Japan is the economic superpower that it is today; and it is only because of the United States that Japan is one of the leaders in crap racing games. You'd think that these jerks could show us a little bit of goddamned gratitude. Instead, what we get is an endless lecture about policy. Well, I for one am sick of it. I am sick and tired of being lambasted for heroic action that brought this planet out of one of the darkest chapters of its history. Japan needs to realize that they were on the wrong side of that particular conflict. The fact that they are using video games to try to make the United States a scapegoat is most unfortunate. However, rest assured that their transparent attempts to villify us will fail.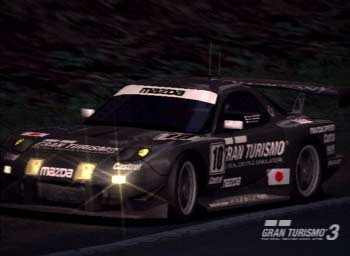 A Mazda RX-7 LM race car at night.
Bottom line: The silly, sorry sons of bitches that put this turkey together deserve to be banned from the video game industry permanently. Don't buy this game. It was made by a bunch of vindictive assholes.
Final Rating: 0.38 (out of 10.00)