This is an
archive
site only. It is no longer maintained. You can not post comments. You can not make an account. Your email will not be read. Please read
this page
if you have questions.

Linux Zealot in the Future

Author: Topic: Posted:

Jan 14, 2002


Comments:
One of the primary topics of my PhD thesis in anthropology deals with the users of Lorenzo Torrovádez'
1
hacker operating system
Linux
. During my research, I have uncovered several interesting disorders which cripple the minds of all Linux zealots. For one, Linux zealots are entirely resistant to change or progress of any sort. They tend to spend as much of their times as possible in their parents' basements, where the scenery seldom changes. They refuse to adopt new technologies such as
graphical user interfaces
or
3D graphics acceleration
. They even refuse to change their own clothes, no matter how
rank
and
disgusting
they become.


More stories about Linux Zealot




More stories by
A lot of this behaviour can be traced back to the shortcomings of the open-source development model. Due to its chaotic and unstructured nature, Linux and other open-source projects evolve at a much slower rate than their closed-source counterparts. Linux zealots, afraid of change and unable to afford superior proprietary products, instead make up strings of excuses in a vain attempt to convince themselves that their free software is better.
But my words are boring you. My thesis can be best represented in the following high-quality cartoon.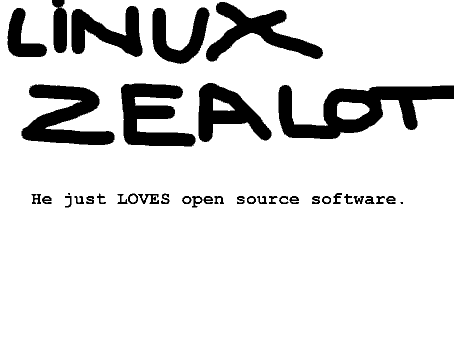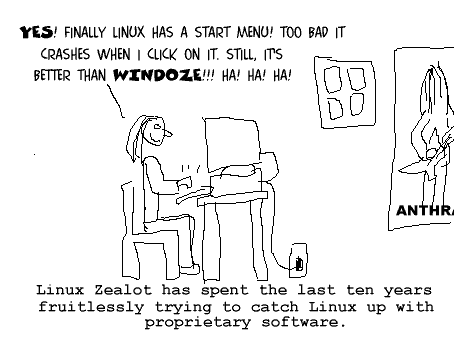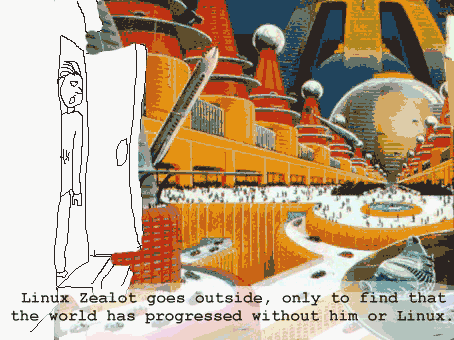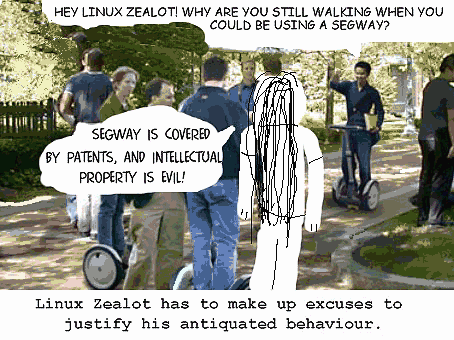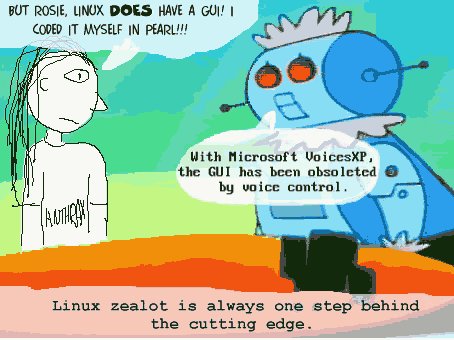 Footnotes:
1 Note that "Lorenzo Torrováldez" is only one of many possible transliterations from the original Southeastern Armenian alphabet of Torrováldez' birthplace. Do not flame me for spelling errors; I am aware that there more common transliterations, but my own is closer aesthetically to the Armenian original.
2 Segway® is a registered trademark of Dean Kamen. Rosie and The Jetsons™ are trademarks of Hanna-Barbera Corporation. Linux® is a trademark of Lorenzo Torrováldez. Linux Zealot® is a registered trademark of Adequacy.org. All other trademarks are the property of their respective owners.


All trademarks and copyrights on this page are owned by their respective companies. Comments are owned by the Poster. The Rest ® 2001, 2002, 2003 Adequacy.org. The Adequacy.org name, logo, symbol, and taglines "News for Grown-Ups", "Most Controversial Site on the Internet", "Linux Zealot", and "He just loves Open Source Software", and the RGB color value: D7D7D7 are trademarks of Adequacy.org. No part of this site may be republished or reproduced in whatever form without prior written permission by Adequacy.org and, if and when applicable, prior written permission by the contributing author(s), artist(s), or user(s). Any inquiries are directed to
legal@adequacy.org
.